You Are Deb
I got an e-mail from H. Randall Agadi III tonight titled, "that's u, goober!" It contained just this: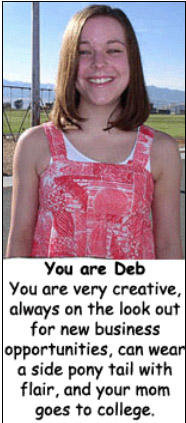 However, I'd like to state for the record that I am not Deb. I'm not even Deb-like. So like all those other rumors Randy's started about me, this one too is untrue.
Well...here's a little
update
(even thought I doubt anyone's seen this yet because I just posted it about five minutes ago): I just took this quiz and as it turns out...I AM Deb. I think my "peanut butter sandwich" answer gave it away.
Only, they tell me, "You are Deb and you could drink whole milk if you wanted." I can't believe Randy left that out of his e-mail. I know his favorite line in the whole movie is, "Like...numchuck skills, bowhunting skills, computer hacking skills. Girls like guys with skills!" but the greatest line was really, "I see you're drinking 1%. Is that because you think you're fat? Because you're not. You could be drinking whole milk if you wanted."